Hello Clients,
Did you know that major customer review sites get hundreds of millions of views each month?
It's hardly surprising when you think about it.
After all, when most people are looking to buy something, or hire someone, they tend to trust a recommendation more than an advertisement. That's true whether you're shopping for a car, restaurant, dentist, or… real estate agent.
In fact, referrals from valued clients are one of the main ways we build our business.
They are something we take very seriously. We work hard to be "referral worthy" by providing excellent service and continuing support — not just during a client's move, but in the years afterward. This e-newsletter is just one of the many ways we do that.
So, the next time you come across a neighbour or friend looking for great real estate agents, we hope you will feel confident giving them our names.
We would really appreciate it!
And, please allow us to return the favour. The next time you're looking for a real estate-related professional — such as a contractor or tradespeople — reach out to us for a referral from our network. We are always happy to help.
Matthew Wiebe, Broker
Beacon Real Estate
wiebegroup@shaw.ca
403-585-1171
Certified Condo Specialist and Seniors Real Estate Specialist®
Jack Wiebe, REALTOR®
Beacon Real Estate
jackwiebegroup@shaw.ca
403-680-6220
Seniors Real Estate Specialist®
Calgary Real Estate Board Update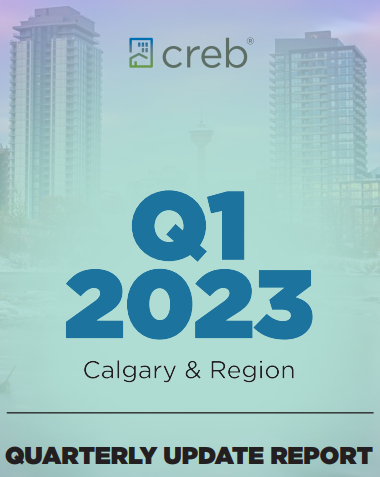 Calgary House Market Report
Sales activity has behaved as expected through the start of 2023 and slowed by 43 per cent over last year's all-time record-high performance in the first quarter . The steeper decline in the first quarter was expected, given the surge in sales last year, as purchasers were eager to enter the market ahead of expected rate gains . While no further rate gains have occurred so far this year, the higher lending rates and limited supply choice are contributing to some of the pullbacks in sales . Nevertheless, despite the decline, sales activity has remained well above pre-pandemic levels thanks to recent gains in migration coupled with a stronger employment market . The most notable challenge in the market has been related to supply levels . New listings were expected to ease as higher lending rates would make it more difficult for the move-up buyer . However, the pace of decline in new listings has exceeded expectations . New listings in the first quarter declined by 40 per cent, preventing any significant shift in the supply levels given the relatively strong sales . Inventory levels in the city averaged 2,814 units in the first quarter, 21 per cent lower than last year's levels and over 42 per cent below long-term trends for the first quarter . With a sales-to-new-listings ratio of 71 per cent and a months of supply of under two months in the first quarter, conditions continue to favour the seller . Exceptionally tight market conditions early last year drove significant price gains throughout the 2022 spring market, peaking at $544,733 in the second quarter . While supply demand balances remained tight throughout 2022, prices did trend down over the third and fourth quarters, somewhat adjusting for the rapid rise earlier in the year . Further tightening in the supply-demand balance in the first quarter was enough to stop the downward price trend as the quarterly benchmark price rose over two per cent in the fourth quarter to $531,200 but remained below the Q2 high . Some of the fluctuations in price were expected this year, given what happened last year . However, price growth to date has been stronger than expected . Given the limited supply currently on the market, we could expect to see some stronger price growth through spring, potentially supporting a modest annual gain in 2023 .
Surrounding Area